This is the Mardi Gras Set 3
If you decide you want to use these graphics remember to right click and select "save as" to download onto your own hard drive.
Use my logo to link back and give credit.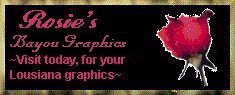 The URL is http://members.tripod.com/~littlerosie/bayou.html
Thanks, and have a great day!