Rosie's Theme Sets

Here you will find several sets that I have created for you. Remember this is a linkware site!
You must provide a link back to my site by using the logo below.
Right click and save the logo to your own hard drive.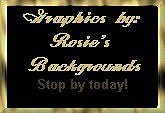 The url is: http://members.tripod.com/~littlerosie/index.html
DO NOT LINK TO THESE GRAPHICS!
Please make a selection.

Bayou Sets
These work for Cajun sites, as well as others.
Would you like to visit my homepage?
Click my banner!

Take a moment and sign the guestbook

Drop me a line and let me know you have used my borders.



This site is © 1998 by Rosie. All rights Reserved.


Search for more graphics?
Cannot find what you want here?
Try the Graphics Ring Search Engine