Holiday sets
These are some holiday sets that I have created.
Remember this is a linkware site.
Use my logo below to link back.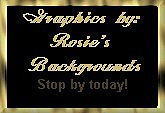 The URL is http://members.tripod.com/~littlerosie/index.html
DO NOT LINK TO THESE GRAPHICS!
Do not try to use these graphics in any collection.
Enjoy these graphics, and have a happy holiday!
St. Patrick's Day!